It's all about your dog!
Kyle Smith and Chandler Waite have owned the Dayton dealership since April of 2006. Much like a puppy we've been growing leaps and bounds! Using a combination of outstanding customer service, the safest and most reliable system in the industry, and a containment guarantee, we have tripled the size of the dealership since our beginning. Both owners are graduates of The Ohio State University (Go Bucks!), and of course, dog lovers.

Chandler and Michela are the proud parents of Lucas and Logan and are owners of Emmy (Black Lab) and Harley (Lab/Boxer). Michela is a stay at home (office) mom who answers many of your phone calls and emails.

Kyle and Amber are both avid dog lovers who are currently looking for their next 4 legged friend. Amber is a Physical Therapy Assistant at Wright State Physicians and a graduate of Wilmington College.

Doug Toops is a 7 year veteran employee. He knows the product inside and out and is a great asset. He's a graduate of The Ohio State University and is the proud owner of Reilly (Basset mix) and Sarge (Australian Shepard)

You may also come across Sidney (office), Charlie (service tech), or AJ (service tech)

Call us today and see what thousands in the Miami Valley have already discovered: a DogWatch Hidden Fence is the ultimate pet peace of mind.


Service Area
We provide services to customers in the Greater Miami Valley area, including the towns and cities of Beavercreek, Centerville, Dayton, Englewood, Enon, Fairborn, Miamisburg, Oakwood, Springboro, Springfield, Tipp City, Trotwood, Troy, Vandalia, and Xenia , Ohio and the surrounding area.
Get a Free In-Yard Estimate!
Our representatives will meet you at your home for a free in-yard estimate. We will help assess your needs and customize a solution that suits both you and your pet. Call today or schedule an appointment to get things started!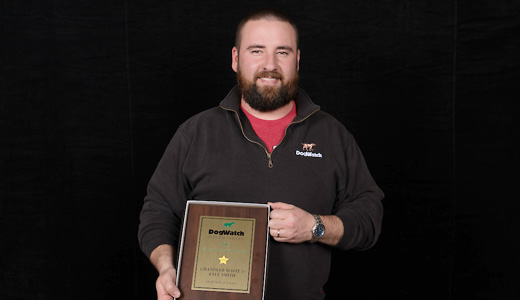 Why Choose DogWatch of Dayton?
1. Our number one concern is the safety and well-being of your pet. We provide the support you need to ensure successful training and happy containment.
2. We provide a proven PetFriendly™ training program. We train your dog (or cat) to recognize the boundary flags and the audible warning signal (or vibration) before introducing the correction.
3. We are experienced professionals committed to providing excellent customer service and support. We strive to service every customer promptly and courteously.
We want to hear about your experience! Write us a review on Google+
Simply the best. No getting around it.™
Another reason to choose DogWatch of Dayton is that we are an authorized DogWatch dealership. The DogWatch Hidden Fence is the most technologically advanced and the easiest to use, and it is backed up by a no-hassle Lifetime Warranty from a company with more than 25 years of keeping pets happy and safe.

What makes us Simply The Best?
---
Customer Testimonial
I love my DogWatch Hidden Fence. We have had it for at least 10 years with no problems. We have trained a Lab, Pit Bull Terrier, Beagle, Jack Russell and now a new Jack Russell to the fence. LUV IT!!!!! All dogs have done very well with no problems. Thanks again.
Julia B.